Community Spaces Project Update
Actions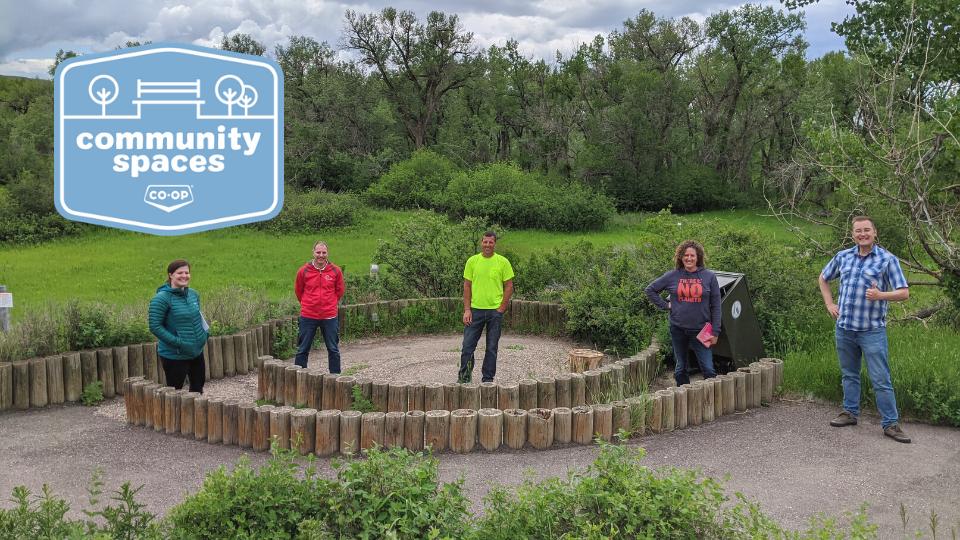 Community Spaces Project Update
November 27, 2020
In 2019, South Country Co-op had two projects in our trading area awarded with Community Spaces grants, which helps build places for everyone to come together to meet, play, learn and share. The Medicine Hat Public Library and the Helen Schuler Nature Centre were awarded $74,300 and $100,000, respectively, to bring their visions to life for the betterment of the greater communities they serve.
While COVID-19 caused some delay in the Nature Centre's progress with their project, an outdoor classroom and amphitheater, it's nearing completion!
When we joined the Nature Centre team to host an announcement BBQ for the grant in June of 2019, it was obvious how much work needed to be done to improve their space. Originally built in 1982 with pressure-treated wooden posts, the outdoor classroom was near the end of its lifecycle and offered limited accessibility for people with varying abilities, among other difficulties. The Centre hosts over 51,000 visitors a year (12,000 of them students), so it was due for an update!
The outdoor classroom and amphitheater in June 2019.

An official unveiling and celebration of the new space will be held in 2021, but the Helen Schuler Nature Centre should be loudly and enthusiastically celebrated for their the status of their outdoor classroom now! Some finishing touches are still in progress, but their vision has come to life in an incredible way! Improved accessibility will make it easier for people with wheelchairs, walkers, or strollers to navigate the area. Seating capacity has doubled, from 22 to 49, and it will be more comfortable, allowing visitors to focus on the topic being presented and the beauty of the river valley.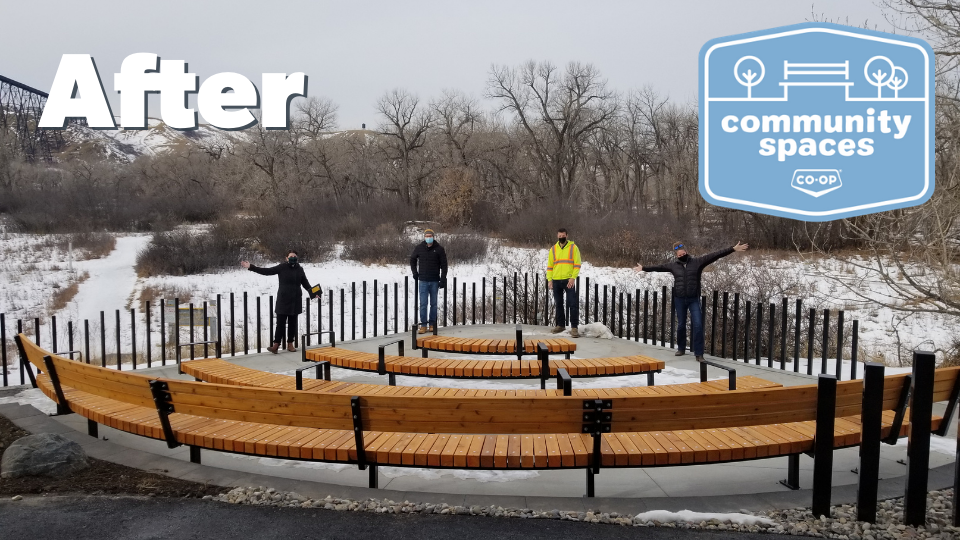 "We thank Co-op Community Spaces for their tremendous support of this project! It looks amazing and is a vast improvement from where we started. Thank you for making this possible and encouraging our efforts to connect our community closer to the natural world around us," said Curtis Goodman, Nature Centre Resource Development Coordinator. "The photo does not do it justice! I look forward to sharing this space with you and our community."
We can't wait to visit and enjoy the Nature Centre in its full glory! Congatulations to the Helen Schuler Nature Centre for your hard work, and dedication to this project for the benefit of us all!
Keep watching the Community Spaces page for the 2021 applications, opening early next year.
Discover more: