Helen Schuler Nature Centre Recipient of $100,000
Actions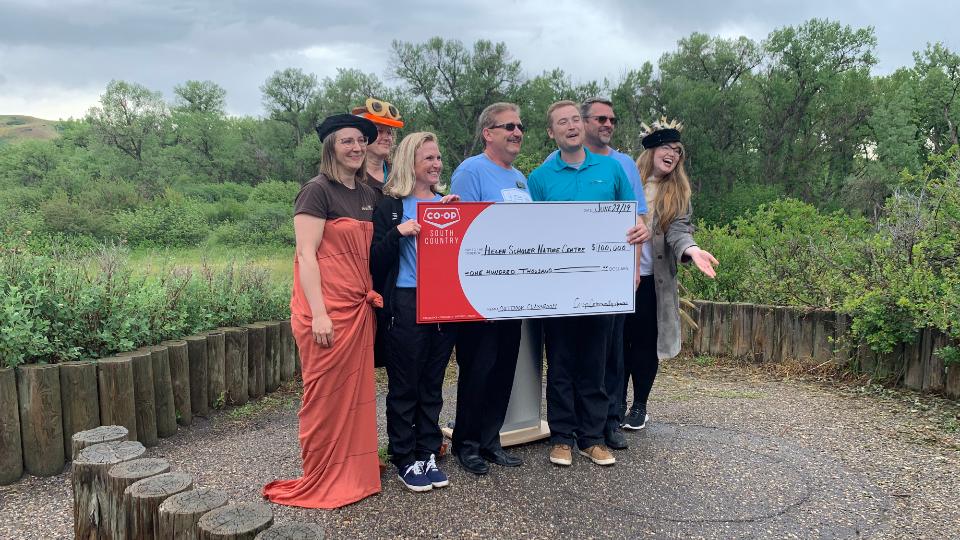 Helen Schuler Nature Centre Recipient of $100,000
June 28, 2019
Rain or shine, nothing can stop a South Country Co-op BBQ from happening!
Thursday, June 27, we were in Lethbridge at the Helen Schuler Nature Centre to present our second Community Spaces recipient with their cheque, and to celebrate our beautiful new partnership! Thanks to the $100,000 grant awarded to the Centre, they're able to fast track the rebuild of their outdoor classroom and amphitheatre.
Originally built in 1982 with pressure-treated wooden posts, the outdoor classroom is nearing the end of its lifecycle and offers limited accessibility for people with varying abilities, among other difficulties. The Centre currently hosts over 51,000 visitors a year (12,000 of them students), so it's time for an upgrade!
With the Community Spaces grant, the Helen Schuler Nature Centre will upgrade the space so it matches the refreshed look of the Centre itself that was renovated in 2014. Improved accessibility will make it easier for people with wheelchairs, walkers, or strollers to navigate the area. Seating capacity will more than double, from 22 to 49, and it will be more comfortable, allowing visitors to focus on the topic being presented, and the beauty of the river valley. Construction on the outdoor classroom is expected to begin in the coming months, and will officially open in 2020.
To celebrate the announcement, South Country Co-op rolled up to the Nature Centre and hosted a BBQ with our Co-op Gold pre-cooked angus burgers, hot dogs, cake, and beverages. It was a wet set up, as the skies opened up as we arrived, but we dried off by the grill and kept going! Thank you to everyone who braved the weather to come out for the party; we were heartened by your enthusiasm and kind words!
The Helen Schuler Nature Centre's team put on an amazing presentation that included many of their project sponsors, and featured appearances by some of the creatures that inhabit their park! Their excitement and passion to educate visitors about the majesty of the Old Man River and surrounding area, and to preserve the environment ignites the same drive in South Country Co-op. We can't wait for updates on the outdoor classroom once construction begins!
The Co-op Community spaces program has invested $8.5 million into 114 projects across western Canada since 2015. This year, two projects in South Country Co-op's trading area were awarded grants; $100,000 to the Helen Schuler Nature Centre, and $74,300 to The Medicine Hat Public Library's Developmental Play Space.
For information about Community Spaces grants and how to apply, please see communityspaces.ca.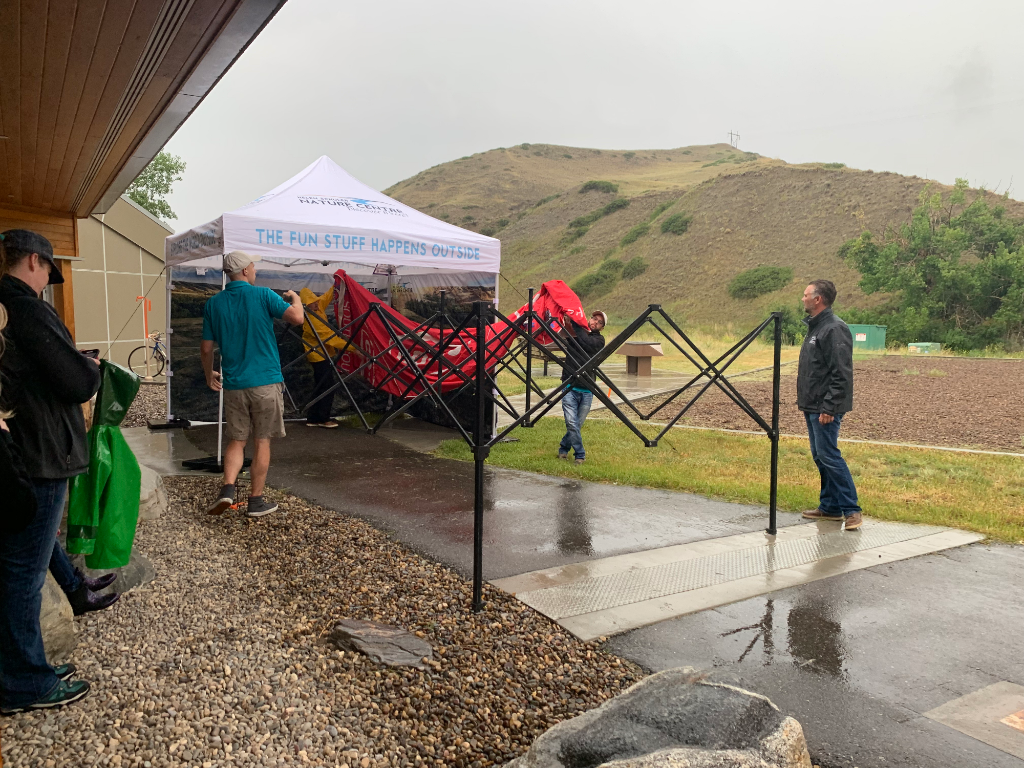 With the help of some of the Helen Schuler Nature Centre Team we were able to get our BBQ tent up to provide some shelter from the rain.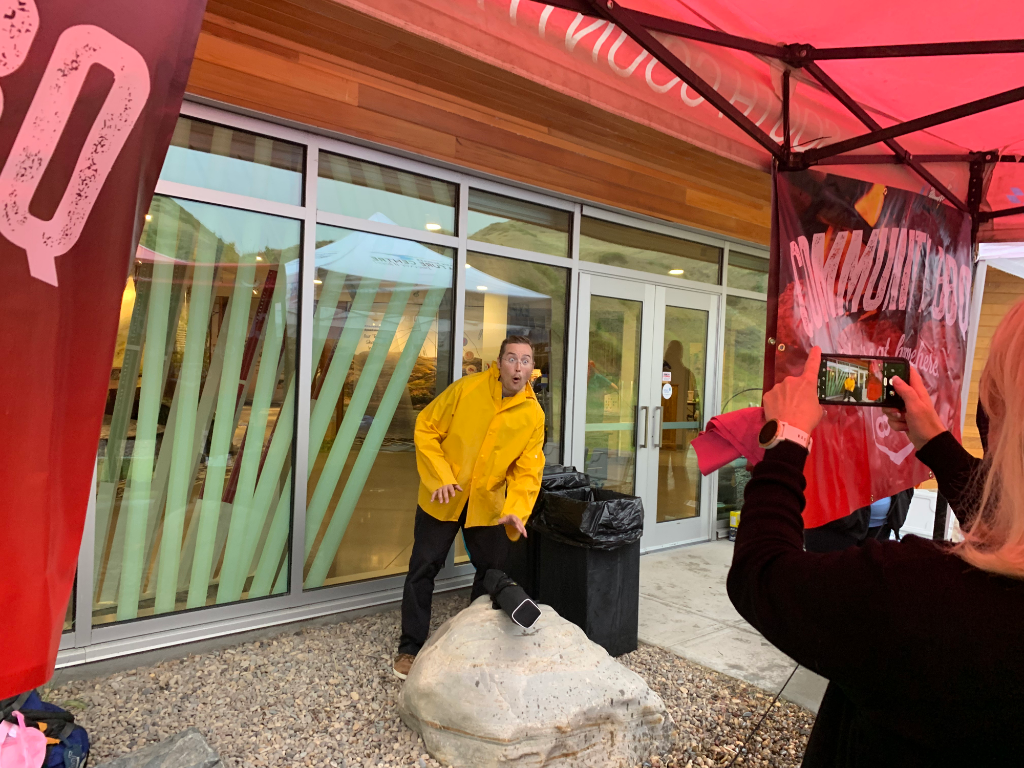 Nature Centre Resource Development Coordinator Curtis Goodman gets in on the South Country Co-op BBQ fun!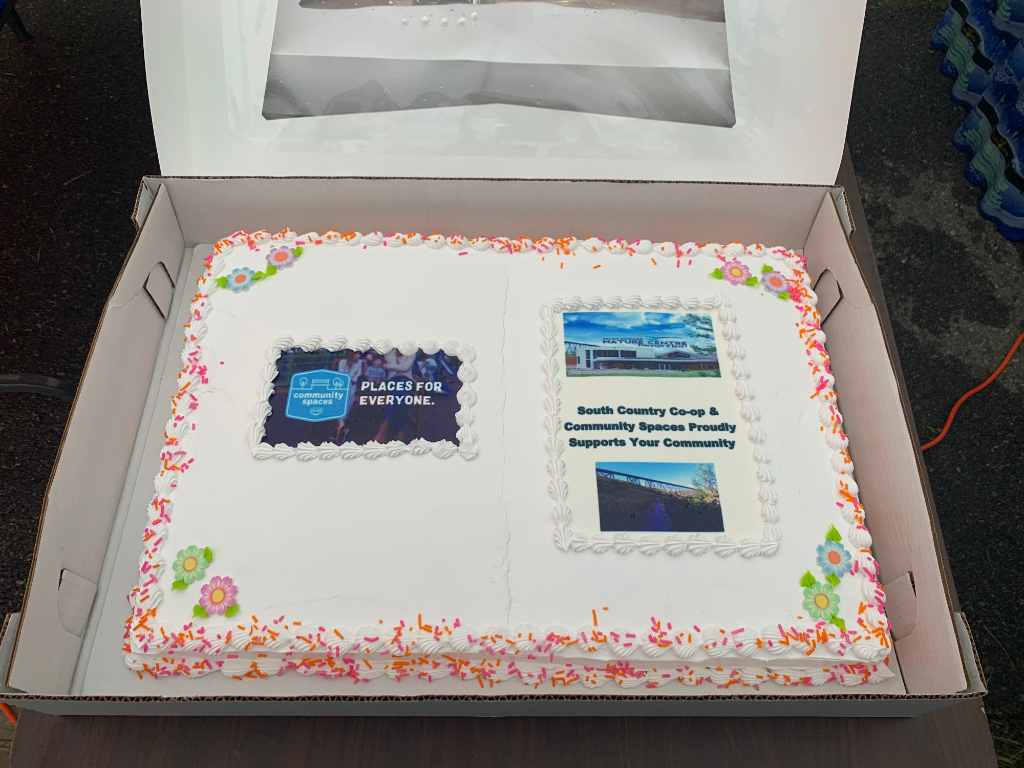 One of the cakes we brought from our Taber food store to celebrate.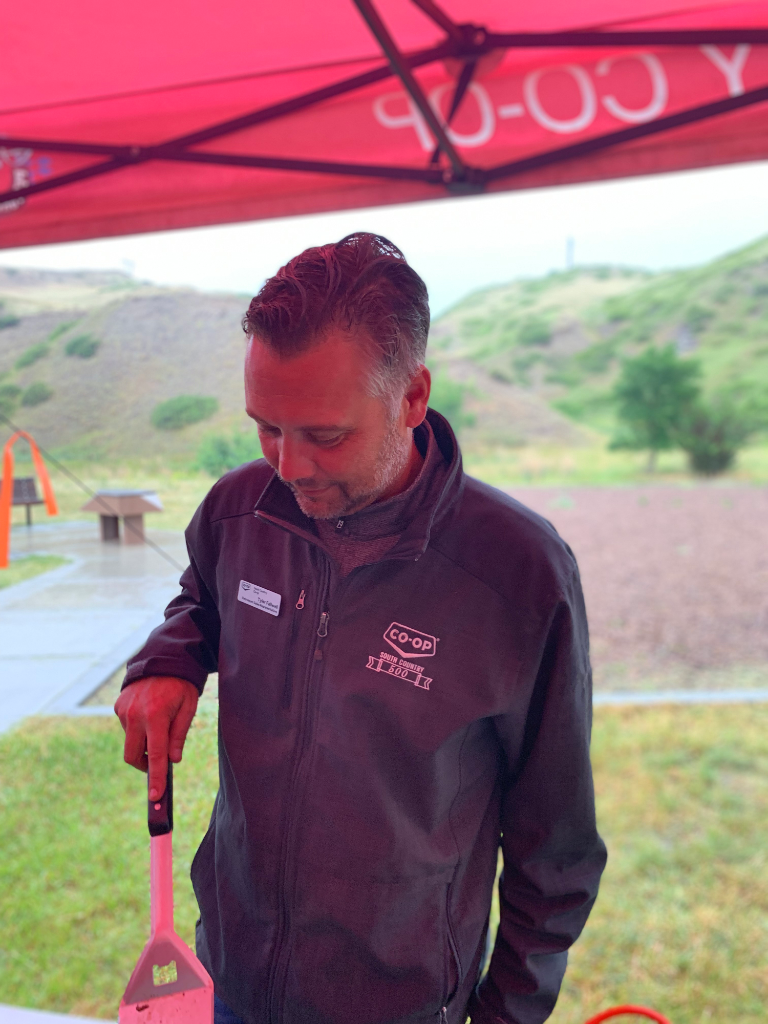 Petroleum Sales Rep Tyler Fallwell was one of the grillmasters and served up delicious burgers and hot dogs.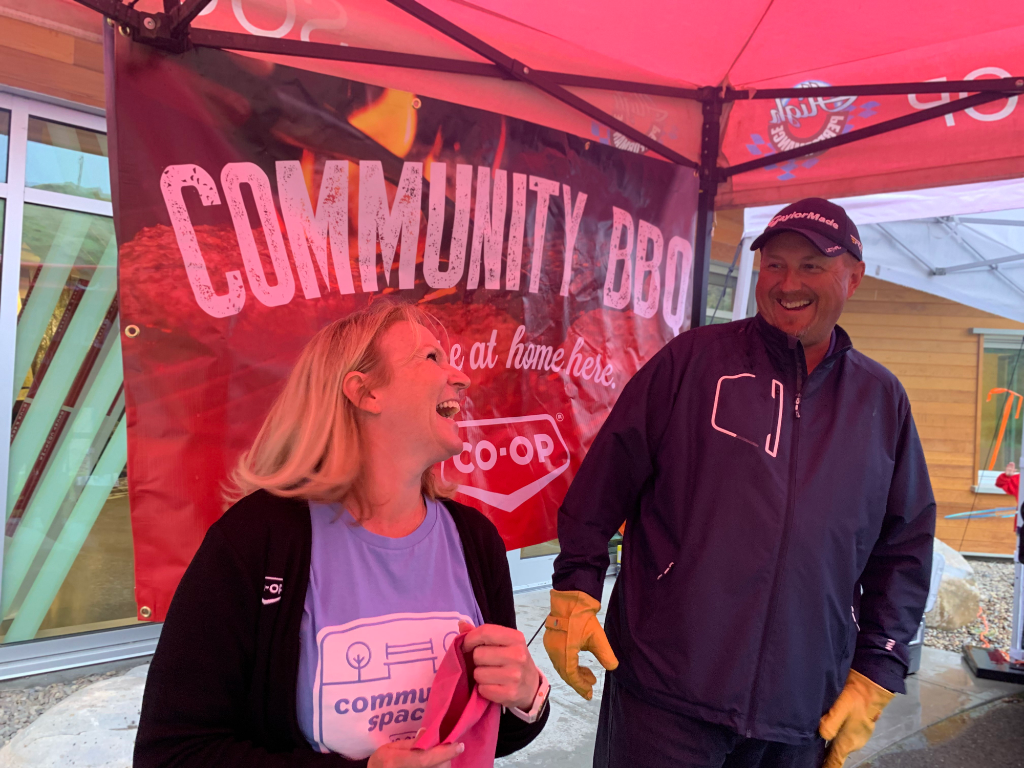 Marketing and Community Relations Manager Carmen Hudson was all laughs with Lethbridge Herald Publisher and South Country Co-op Member Relations Committee Member-at-Large, Brian Hancock, who came out to help us grill!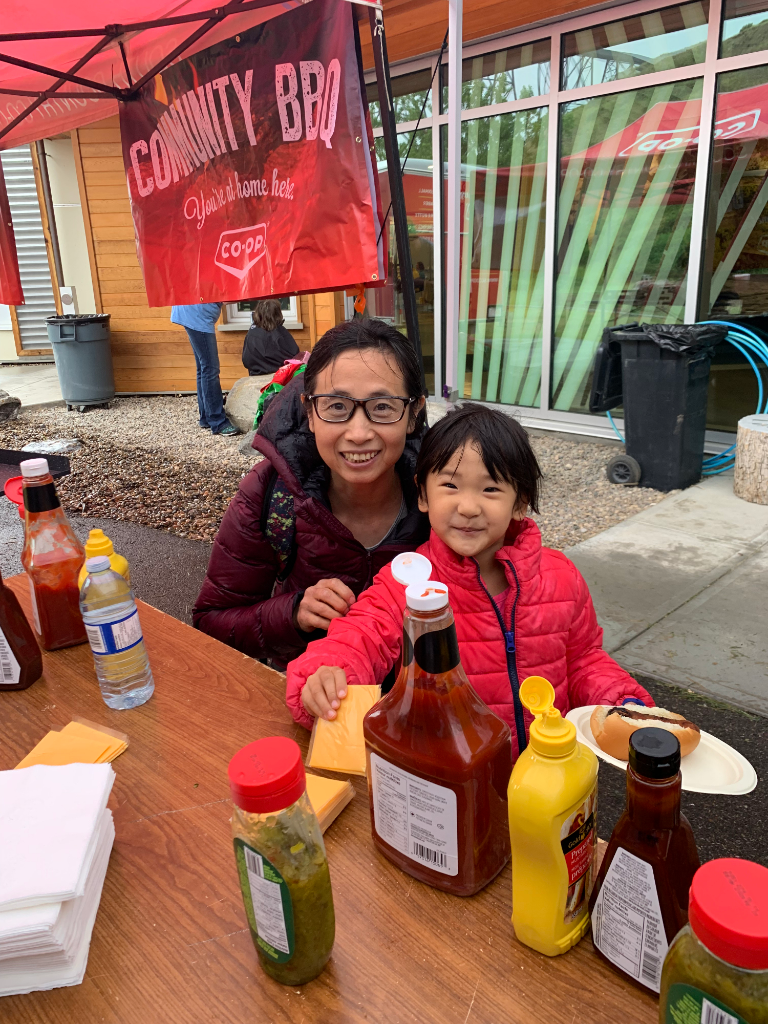 So many happy, smiling people stopped by for a burger or hot dog and the announcement!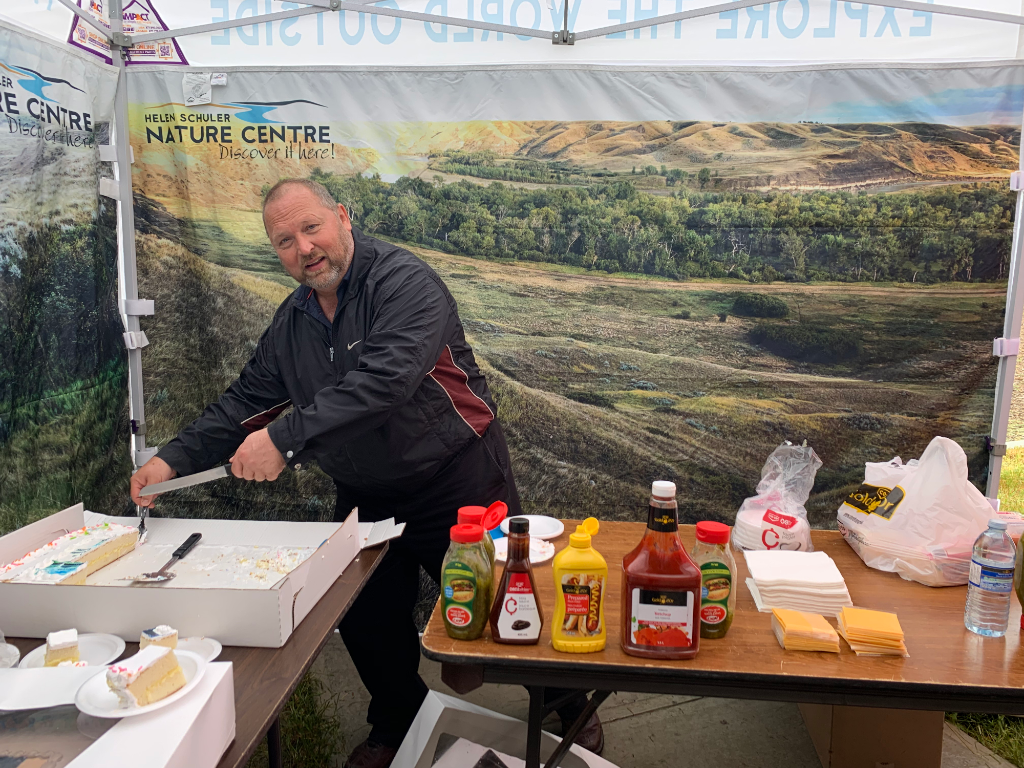 Gas Bar Division Manager Brad Klassen demonstrates how to serve cake against a sunnier backdrop than we we actually had.
Interim CEO Paul Haynes and Marketing and Community Relations Manager Carmen Hudson speak to the gathered audience about the Community Spaces program, and how important the Helen Schuler Nature Centre is to our area. This project is meaningful to South Country Co-op because of its preservation efforts, educational components, and that it's accessible to everyone!
Thank you to the Helen Schuler Nature Centre for applying for a Community Spaces grant, and allowing us to be part of this incredible project, and to everyone who came out to celebrate with us, despite the rain!
Discover more: