Your safety is our top priority
Actions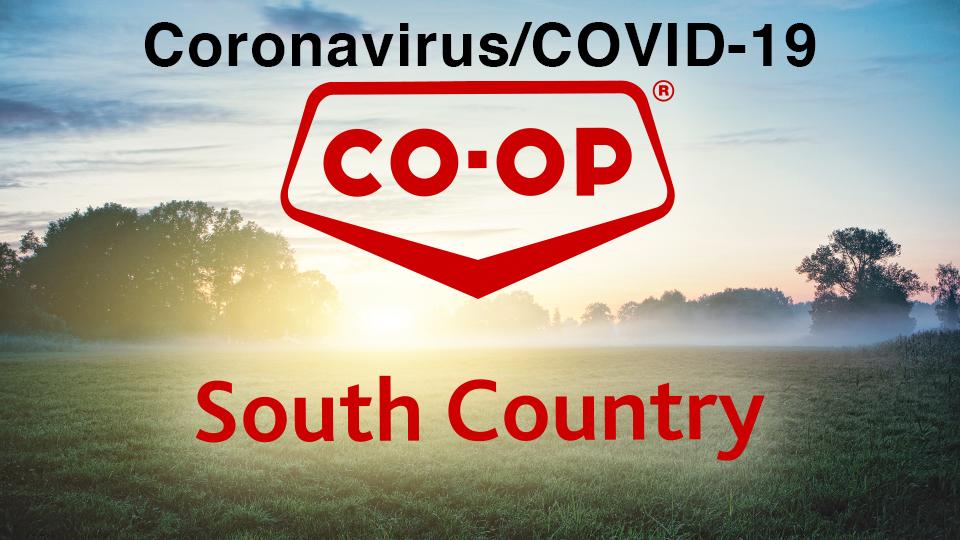 Your safety is our top priority
April 8, 2020
As we all adjust to our new (temporary) normal, we wanted to give you all some updates on what's being done across all South Country Co-op sites to ensure the health and safety of our guests and Team Members so we can continue to provide essential services for our communities.
First, we want to recognize the hard work of each and every one of our incredible Team Members who continue to diligently and safely provide the best service we can, keep a positive attitude, and watch out for each other. These efforts do not go unnoticed and we're giving all employees a temporary $2/hour pay increase.
South Country Co-op has established a Pandemic Committee, led by members of the Leadership Team, who developed a multi-tiered, fluid response plan for all commodities in our organization. Some of our protocols have already been implemented, while others are ever-evolving to as we continue to adjust to new temporary rules and changes.
Several safety protocols have been implemented at all of our sites, including:
•Increased and additional sanitation practices for the safety of our Team and guests, with Safety Data Sheets (SDS) to ensure proper use and application of sanitizers and cleaners.
•Plexiglass shields at all locations, including food stores and pharmacies. Many have already been installed, and we're working as quickly as possible to get them up at every site required.
•Additional signage to keep guests informed of changes
•Tape on the floor to indicate safe physical social distancing, as well as directional arrows to help with traffic flow.
•A number of internal protocols have been established, as well, such as limits on Team Members in common areas (like break rooms, time clock, etc), limited travel except for division managers, and strict "stay home" enforcement if a Team Member is ill.
All of our safety measures fall in line with the rules Alberta's Chief Medical Officer of Health has put in place, and we will continue to adjust our protocols as needed, but ALWAYS with the health and safety of our Team and guests as our first priority.
Our Food Stores are reserving our 8am-9am hour from Monday to Friday for seniors (60+) and vulnerable persons to offer them a lower-risk environment to shop. We've reduced our hours at most sites so extra sanitization and cleaning can take place, and restocking can be done safely. We've also hired additional temporary workers to assist our Team with their workloads and allow them much-needed and deserved time off, and security guards at some sites to prevent recently-returned travellers from entering until they've completed 14 days of self-isolation with no COVID-19 symptoms. We're encouraging debit or credit card payments instead of cash to reduce person-to-person contact, but will not refuse cash payments.
Our Pharmacies have options for people who would prefer not to or cannot come in person. Call your local pharmacy (13th Ave: 403-528-6604, Northlands: 403-528-6608, Taber: 403-223-5984) to ask how we can help get you what you need.
Everyone at South Country Co-op is working together to make sure we remain safe, open, and accessible to as many people as possible when they need us most. Thank you to our Team, thank you to our members and guests, and thank you for staying home, unless absolutely necessary, to keep everyone safe.
Discover more: