An incredible 43-year career with Co-op
Actions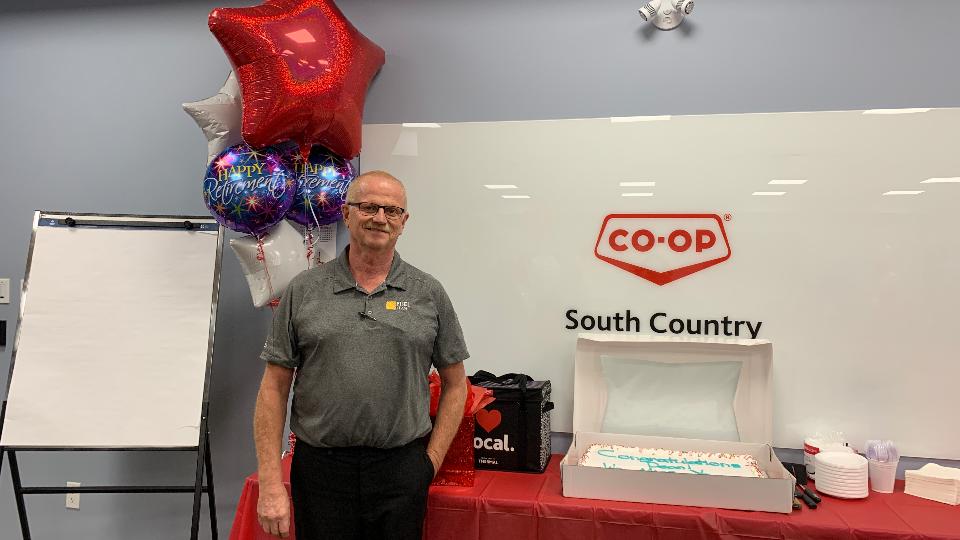 An incredible 43-year career with Co-op
August 18, 2020
On August 18, 1977, Dean Wickham started his career with what would become South Country Co-op as a fuel truck driver.
On August 18, 2020, Dean Wickham took his last official phone call as a Petroleum Division Manager, just outside the board room where a small send-off was underway to celebrate his 43 years with the company. "Can I call you back? I'm in the middle of something," Dean told the caller quietly, underscoring every statement from his peers to come.
Bruce Buckingham, Agro Division Operations Manager, started off the toasts by mentioning that, even on his final day, Dean was one of the first people at the office.
South Country Co-op CEO, Paul Haynes, followed with, "It really shows who Dean is as an individual and person, as Bruce said, that worked hard, showed up early, was the last guy out of the office, the first guy here. Dean, from myself to you, I shared many good times with you; we had some fun times, some difficult times, some challenging times but we got through those. Thank you for all your efforts."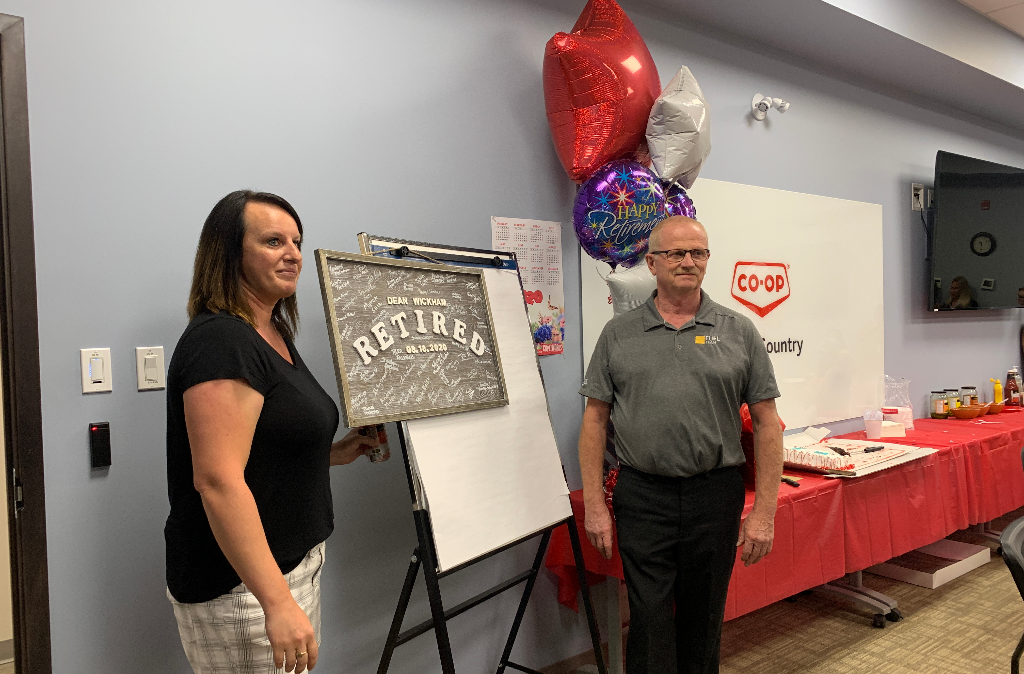 Petroleum Administrator Sheena presented Dean with a goodbye gift from the office.
Former Medicine Hat Co-op CEO, Ted Rodych, worked extensively with Dean and had this to say, "His customers were number one; not only Monday to Friday, but Monday to Sunday, 24/7. Dean, I was proud to have you on my Team. Dean started out as a truck driver, became the 13th Avenue Bulk Petroleum manager, and worked all the way up to Petroleum Division Manager. You were always willing to take on new responsibilities, and to learn new technology. You self-taught yourself on many, many programs. Thank you for being a great Team Member. You never hesitated to jump in the petroleum truck and deliver fuel, many times at 9:00 at night, on a Friday!"
Projects Division Manager Rick Bolen kept the stories going. "I've got two words to describe Dean Wickham: Dean Wickham. Dean Wickham is probably the most giving and selfless individual I've ever met in my life.
"And the reason why I say that is right from the get-go when Ted [Rodych] and Dean hired me back in 2008, I came to work the first morning on a Monday in June of that year and there were two trucks in the parking lot [at the rear] of the 13th Avenue Food Store. One of them was a 2008 ¾ ton, which was brand new because it was a 2008, and the other one was a 1990 Chevy. Dean had been with the Co-op probably 30 years at that point, and this is how selfless he really is: rather than take that new pickup truck and keep it for himself he'd pass it over to the new guy. And that was how Dean was throughout his career when it came to sharing knowledge. Thank you, Dean for everything you've done for me and for this Co-op."
Sheena Massey, Petroleum Administrator, summed up South Country's collective thoughts about Dean by saying, "You know, they always say an employee is replaceable, and while that rings true because you can replace a person's body with another body, you can't replace that person's character. You are genuine, you're dedicated, you're hard working and those are the characteristics that will be missed most. We wish you nothing but health and happiness in your retirement."
In December 2019, Dean was interviewed for a story about longtime South Country Co-op employees in the magazine, South Country Co-op Limited Through the Years... Telling our Story. "I started as a fuel truck driver and then things just sort of evolved from there," he commented. "There has always been that progression (with Co-op). If you have the ambition and the want to take on different and new things with the company, the opportunity is there."
At that time, retirement looked a little further ahead. But Dean has grandchildren to spoil, and a to-do list from Debbie, his wife, until they can travel.
Keeping to his reputation as a man of few words, Dean said, "It's time to move on to a new phase. Thanks to my wife for putting up with me over the years. She's made some sacrifices. I'll still poke my head around. Thanks. Thanks a lot."
But Debbie transformed the bittersweet moment by adding, "After 43 years, it doesn't matter where we go. In the Co-op System we have friends everywhere. It's like family. And we'll miss everybody for sure, but we'll be around!"
Congratulations Dean!

Discover more: