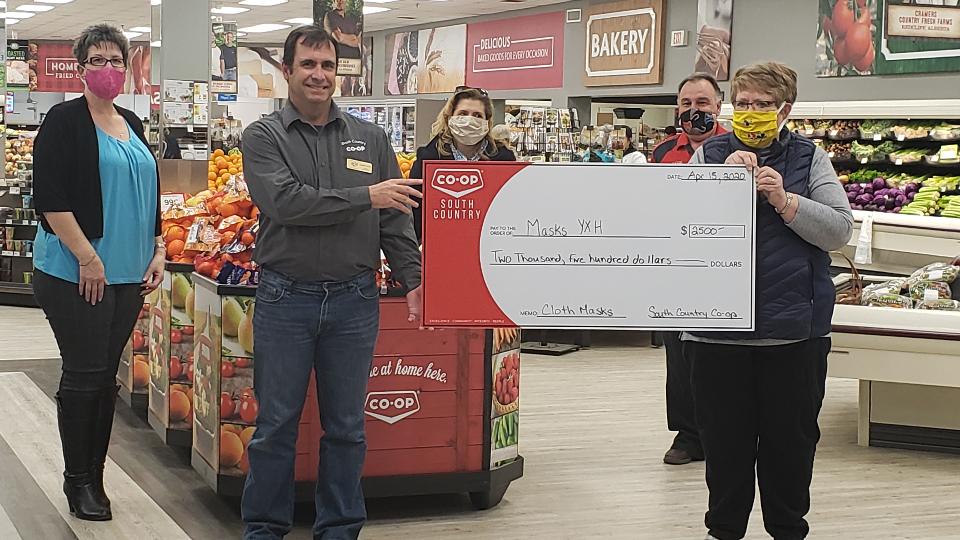 $2,500 to Masks YXH
April 16, 2020
Despite the physical barriers imposed on all of us in recent weeks, people have been connecting with each other like never before, for the united goal of protecting and helping as many others as possible.
One such group, Masks YXH reached out to South Country Co-op to see if they could be of assistance to our Team. We donated 2000 resealable bags, and 4000 labels for the bags, as well as $2,500 for more supplies, such as material and elastic, and they gave us 600 non-medical masks for our frontline Team across all our sites! Thank you, Masks YXH!
Pictured above, left to right: Heather Smith-Schenkey, South Country Co-op Health, Safety & Environment Manager; Richard Potter, South Country Co-op Board President; Shauna Wanner-Crowley, Masks YXH Head Seamstresse; Kelly Mastel, South Country Co-op 13th Ave Food Store Produce Manager; and Doris O'Sullivan, Masks YXH Head Seamstress.
Masks YXH is a newly-formed combined group of home-based seamstresses who have dedicated their time, skill, and personal supplies to producing non-medical grade masks. The group is made up of 15-30 seamstresses, and members from a few Hutterite colonies.

Dr. Nicholle Wanner reached out the community for help with making masks, and with her guidance an AHS-approved mask design was provided to Masks YXH, who quickly began creating thousands of masks. These non-medical grade masks are for non-healthcare essential frontline people, like our community partners at The Mustard Seed and The Medicine Hat & District Food Bank, Medicine Hat Community Housing, long-term care facilities, and our South Country Co-op Team that serve our guests.
Masks YXH also provides masks to PPE Medicine Hat, which is another newly-formed group who are coordinating PPE donations and distribution.
Thank you to all these incredible people who are working together to make us all safer!
Discover more: