SOLUTIONS TAILORED TO YOUR FARM
Actions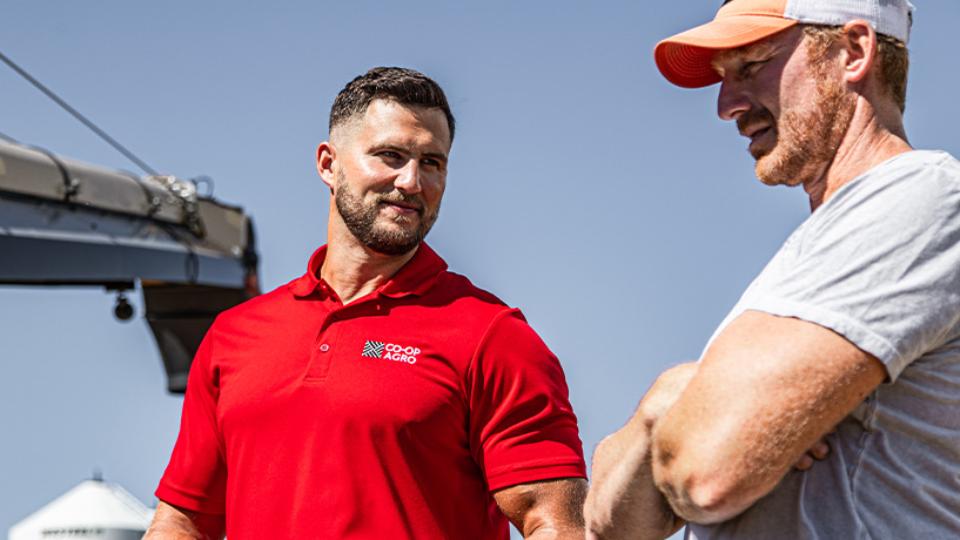 SOLUTIONS TAILORED TO YOUR FARM
June 17, 2022
Road trips are an everyday part of life for Co-op Equip Team members, our team of dedicated on-farm equipment experts who provide the proven solutions, emerging technologies and industry-leading supports that make your job easier.
This team of specialists work closely with producers to select and provide the most effective grain storage and handling systems tailored to each farm. Each day is often as different as the farm they are visiting and the equipment they are working with – a preliminary consultation one day, an auger delivery the next and a follow-up visit the day after that with a farm that just wrapped up a significant expansion to their bin yard.
Tried, Tested, and True to Your Farm
While growers often have the same goals – to expand storage while improving on-farm efficiency – the solutions that get them there vary, which is why consultations are important.
How many acres are being farmed today? How many will be farmed in five years? How will that grain be stored, moved, conditioned, and monitored?
All these factors – and more – will determine the equipment and the layout that is right for the farm. Before committing to a plan, your local Equip Team member will ensure every detail is examined, including truck-turning radiuses, power availability, lighting, security, safety, and room for future expansion.
The needs of each farm are unique. Talk to your local South Country Co-op Team Member, or see Agro.crs, about how to enhance your grain handling system based on seeded acres, existing storage capacity and current handling options, as well as their goals for the future.
Division Team
Mike Mueller — Vice President, Agriculture
Anita Stephens — Logistics Manager
Chris Danderfer — Agro Division Manager
Jack Payne — Agronomy Solutions Manager
Barons — (403) 757-2054
Corey Pearse, Bruce Aldridge
Brooks — (403) 362-2885
Elan Noga
Broxburn — (403) 394-2476
Madison Ash, Denver Wilde
Claresholm — (403) 625-4088
Corey Hawke
Cypress — (403) 528-6609
Julia Bodin, Stacy Scheuerman
Foremost — (403) 867-3200
Tracy Niggli
High River — (403) 652-4143
Erin Lepp, Nicole Bokvist
Lomond — (403) 792-3757
Kayden Booth
Oyen — (403) 664-3633
Keith Mehl
Vauxhall — (403) 654-2137
Trisha Habraken
Discover more: