Power Through Harvest with South Country Co-op
Actions
Power Through Harvest with South Country Co-op
July 6, 2020
South Country Co-op is just one of over 160 Co-op Fuel Teams across western Canada that specialize in fuel, lubricant, and propane products and services for our producers and commercial users. Our Teams are made up of your friends, neighbours, and family members who understand what Canadian producers need to be successful and profitable.

Co-op Teams work for you, and with you, to build meaningful partnerships so we understand your business and recommend the most beneficial products and services for YOU. With Co-op, you can expect customized relationship that fits your needs; timely deliveries for bulk fuels, lubes, and propane; storage tank recommendations, including monitoring systems; full-service propane installation, and more.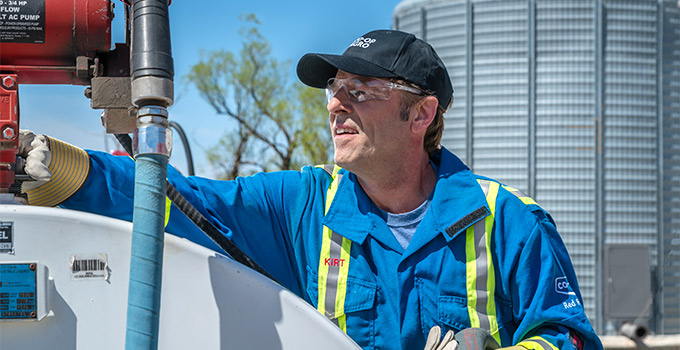 Over the years, as Co-op has evolved and grown to fit the needs of our Members and guests, we've developed our own line of high-quality fuel and premium lubricant products, and engineered them to meet the most demanding extremes of Canadian weather. Co-op has been a trusted manufacturer and distributor of a wide selection of lubricant products for over 65 years! Our lubricants are proudly made in western Canada, and are formulated to protect your equipment in all kinds of operating conditions for the agricultural, forestry, commercial, construction, and automotive markets.
For technical information about our Co-op and Sonic lube products, see here. Learn more about Co-op Premium Lubricants and how they offer total equipment protection here.
Our understanding of and commitment to Canadian producers has also driven our Fuel Team to develop a specially formulated fuel to maximize power output, improve fuel economy, and maintains fuel system cleanliness in a range of diesel engines. It's made in western Canada, and exceeds the standards set by the Canadian General Standards Board (CGSB), which also certifies our Co-op Premium Diesel as TOP TIER™.
What makes a fuel TOP TIER™?
"TOP TIER™ is a fuel performance standard written by auto manufacturers to assist in keeping the engine cleaner, thus resulting in improved customer experience."
Learn more about Co-op Premium Diesel and why you should make the switch here.
Most importantly, Co-op is committed to the health and safety of our Teams, members, and guests, especially when dealing with dangerous goods. Rest assured that when you're working with a Co-op Fuel Team, we have the knowledge, skills, ongoing training, and proper PPE to assist you with professionalism and care.
Contact a Fuel Team representative through your local South Country Co-op Agro Centre for details and to learn how we can offer you superior products and services as a partner in your success.
Discover more: