Fuel Good Day Raises $15,000 for HALO Air Ambulance
Actions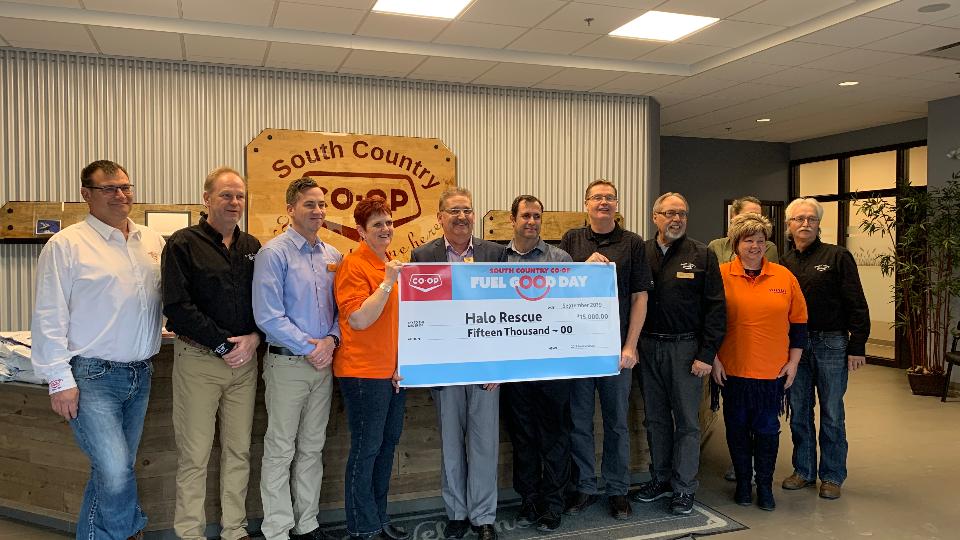 Fuel Good Day Raises $15,000 for HALO Air Ambulance
November 20, 2019
Fuel Good Day was an overwhelming success again in 2019, and the excitement continues! On Tuesday, November 19, South Country Co-op presented HALO Air Ambulance with a $15,000 cheque from the proceeds raised at all South Country Co-op Gas Bars.
On September 17, 5¢ per litre of fuel and $1 from every cup of Co-operative Coffee sold at our gas bars was raised to keep HALO Air Ambulance flying. The collective total raised on Fuel Good Day 2019 for charities across western Canada was $685,000, and since its start in 2017, almost $1.9 million has donated to about 450 local groups!
Check out our Facebook photo album here to see how much fun we had this year during Fuel Good Day!
Pictured from left to right: Board Director Robert Weisgerber, Board Director Simon Neigum, Board Secretary Jeff Unrau, HALO Vice-Chair Ronda Herrmann-Stickel, South Country Co-op CEO Paul Haynes, Board President Richard Potter, Board Vice-President Craig Weich, Board Director Bill Ressler, HALO Board Member Noella Krauss, Board Director Sue Edwards, and Board Director Wayne Brost.
Discover more: