A well-deserved retirement
July 30, 2021
Ben Dutchak ended his 40-year Co-op career on two very distinctive notes: he will be greatly missed, and he was a pain in the ass.
Many will recognize Ben as the reliable, trusted Meat Manager from South Country Co-op's 13th Avenue food centre in Medicine Hat, but stories and tributes to him during his retirement BBQ on July 30, 2021 reflected on his devotion to the Co-op system and how first impressions aren't always true.
Ben began his career in the meat industry in Saskatoon in 1980. He worked at a meat abattoir until August 1981, when the Yorkton Co-op General Manager, nicknamed Boss Hog (Wayne Pearson) hired him as a meat cutter. Within two years he was the Meat Manager at Yorkton Co-op, until 1985 when he and his wife, Gwen, moved to Regina for the Meat Manager position at Sherwood Co-op. In 1995, Ben, Gwen, and son Ryan relocated to Medicine Hat where Ben has been the Meat Manager of our 13th Avenue Food Centre ever since.
Some people who worked with Ben over the years, like Northlands Grocery Manager Ron Perry, and Director of Development Rick Bolen, admitted that he was "rough around the edges", but softened up over the years. Others recounted times they were intimidated by him and his no-nonsense work ethic—before getting to know him.
"Very blunt, very honest, knew what you were getting," Paul Haynes, South Country's CEO, said about Ben during the send-off. "I appreciated the input I got from you because I learned a lot. You were a very dedicated individual, you put in many hardworking hours on nights and weekends. Ben, I can tell you that we're going to miss you."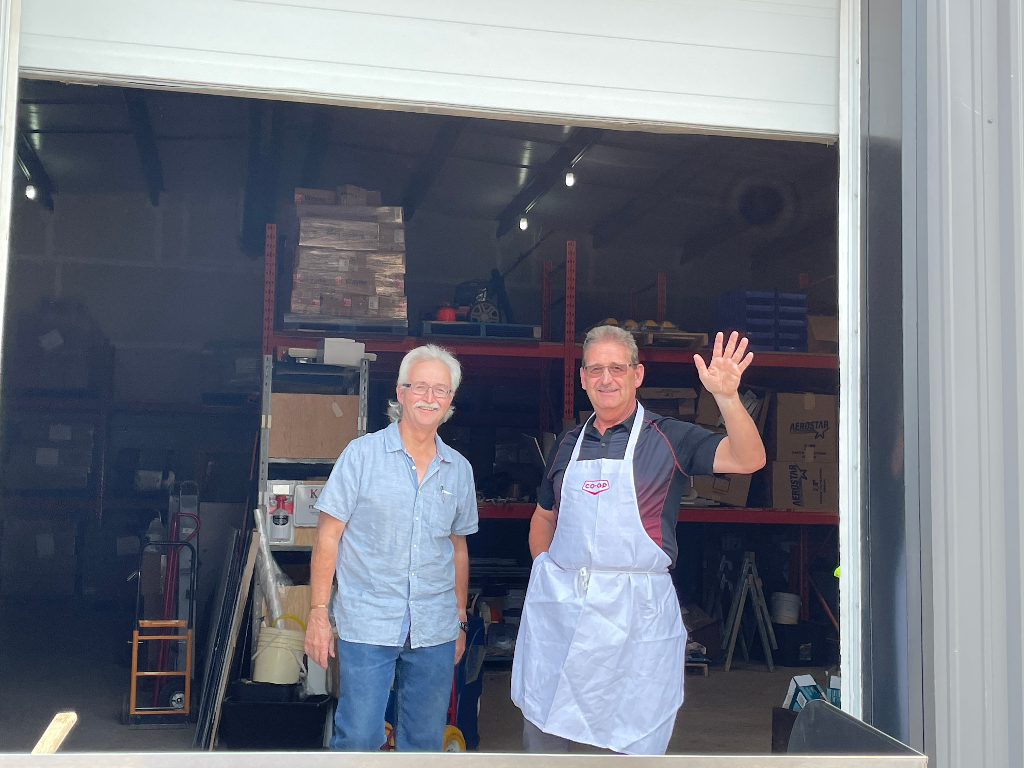 Director Wayne Brost and South Country CEO Paul Haynes
The VP of South Country's Consumer Division, Dean Shropshire, used to work with Ben as a Regional Sales Coordinator, and heard from him often, saying, "Ben used to phone me every day, complained about everything! If the order didn't come in, whether the order wasn't good enough, whether the meat wasn't good enough... or just to complain. One day, I was with a travelling partner when Ben called. This was a bit of a longer one. When we got off the phone, and the guy looks at me and says, 'Don't you just get tired of that?' I said, 'In all honesty, if you made as much money as him, you can complain to me every day.' We're going to miss you, Ben."
Despite all the funny stories about working with a prickly meat manager, it became clear that Ben's dedication to Co-op and doing his job well shone through everything else and will affect everyone who worked with him.
Dave Thomson, Fresh Meat & Seafood Category Manager from Federated Co-operatives Ltd (FCL) attended virtually and said, "[I've] Known you for 29 years. ... You've been a pain in my ass [but] you looked after your department. He's an honest Co-op man, through and through. Congratulations."
The sentiment was echoed by our Board of Directors, via Wayne Brost, "Congratulations, Ben. You and I are both strong Co-op supporters, and I really thank you for all the years you've put in on behalf of the board. Thank you for all your service, have a wonderful retirement, and stay safe."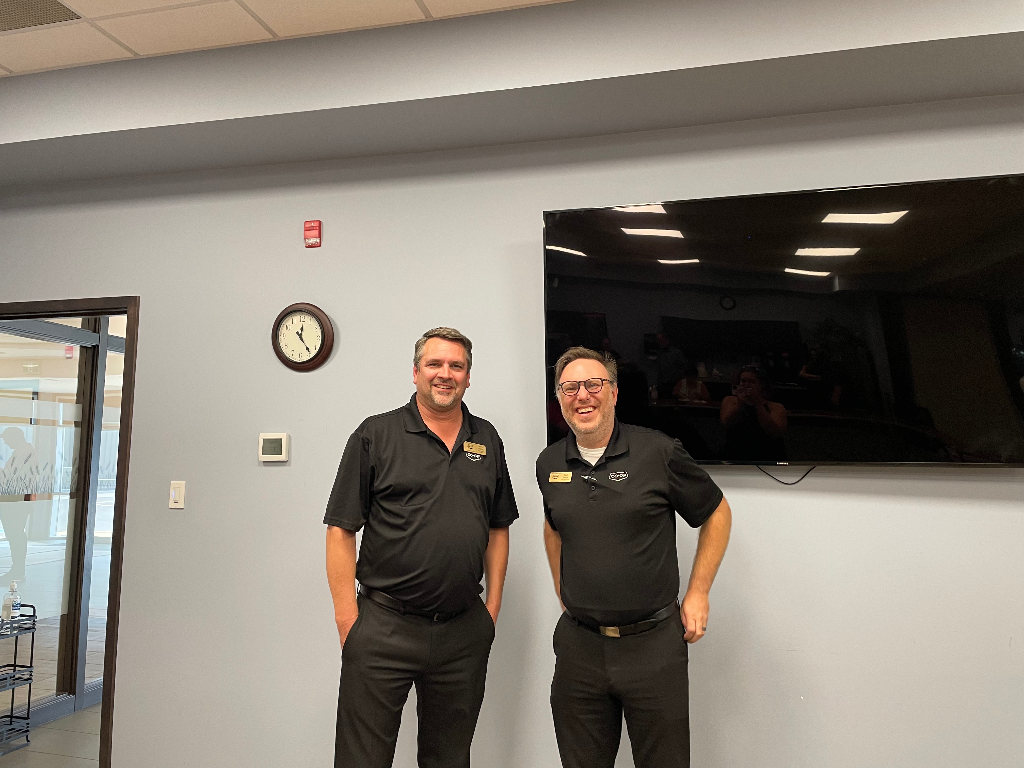 Darren Andres, Food Division Manager, and Kevin Wagner, 13th Avenue Store Manager
Even Team Members who didn't work directly with Ben were in awe of his commitment to a job well done. IT Manager James Paulson said, "I think if we could ever pick a model employee in this company, I would choose you as that employee. You're dedicated, capable, professional, very much brand oriented. Just a super great team worker, and it's been a pleasure in the seven years I've known you. I know that I personally will miss you. I hope you have a wonderful retirement."
James' sentiments were followed up by Director of Marketing & Community Relations, Carmen Hudson, "The truth is, your passion for Co-op is unmatched. There's nobody like you, Ben. Your dedication and passion for Co-op and what you stand for... I'm going to miss you."
It's possible that some people didn't believe that Ben was truly hanging up his butcher's apron. Brad Dewing, South Country's CFO: "Came here in 2012. I'm sure that within the first month of going for coffee at the Bistro with Ben, I heard, 'Yup, I'm retiring in three years—36 months.' Next year, 'Yup, three years, 36 months.' I didn't think this day would ever finally come, Ben. I mean, 'three years' ten years later? Congratulations!"
After the presents were opened and stories told about days past, Ben got his chance to speak to everyone present. "I'd like to thank everyone, I appreciate this. 40 years, I can't believe it. Quick, gone. Met a lot of good people. Thanks everyone, I appreciate it. I'll be honest with you. If anyone knows me, I'm a straightforward, no bull guy. Thank you for everything."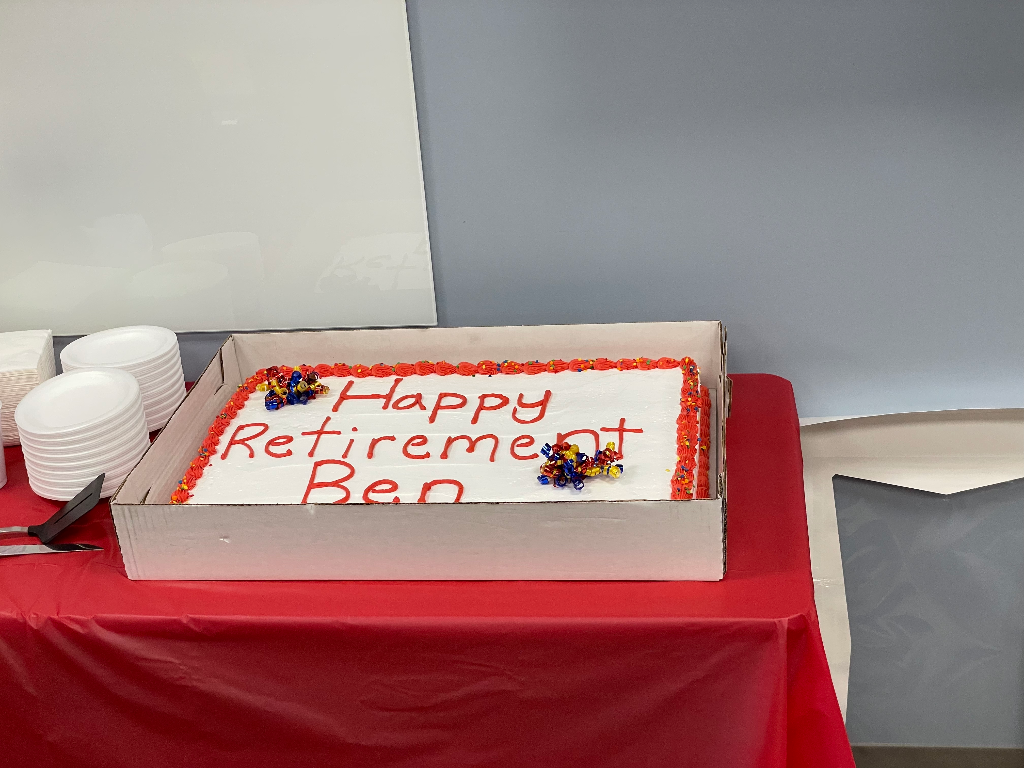 No, thank YOU for everything, Ben. And for being a pain in the ass. South Country Co-op is better for it.
Discover more: