A Message from your Co-op Pharmacy
Actions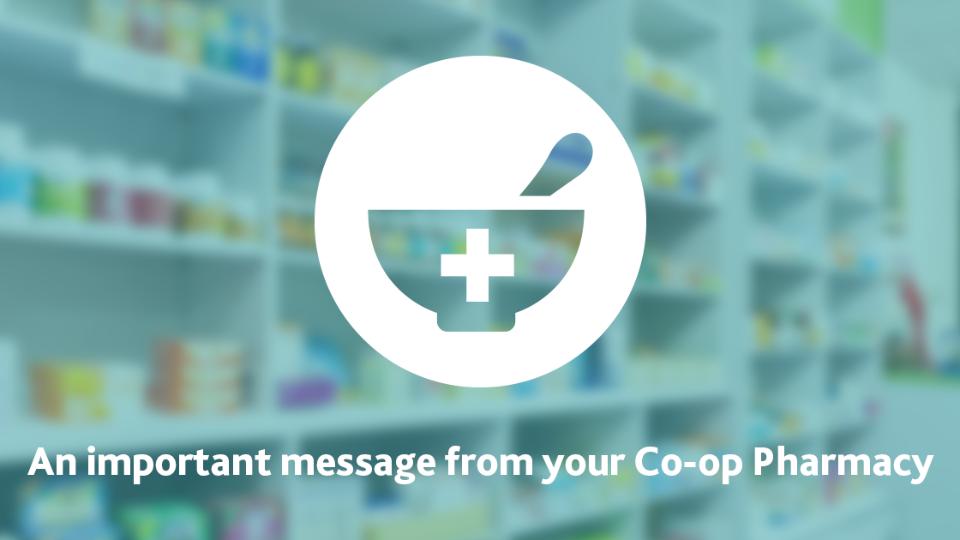 A Message from your Co-op Pharmacy
March 30, 2020
South Country Co-op Pharmacies will remain open throughout the COVID-19 pandemic and will continue to provide essential patient care to our customers. Our top priority is your health and the health of your family.
There is no need to stockpile medications. Doing so can create unnecessary shortages and can put other patients' health at risk. In order to appropriately manage drug supply, your Co-op Pharmacy will be dispensing no more than one-month supplies of medication to ensure adequate supply is available to everyone.
If you have a fever and/or new onset of cough or difficulty breathing AND in the 14 days before symptom onset, you have:
Travelled outside Canada
Been exposed to a confirmed or probable case of COVID-19
Been in close contact with someone with a respiratory illness that has travelled outside Canada within the last 14 days
Please do not enter the pharmacy. Instead call to have your prescription ordered or to speak to our Co-op Pharmacy team. Prescription delivery is available for your convenience.
3030 13th Avenue SE
Medicine Hat, AB
(403) 528-6604
10 Northlands Way NE
Medicine Hat, AB
(403) 528-6608
4926 46th Avenue
Taber, AB
(403) 223-5984

Contact 811 or your public health authority to have your symptoms assessed.
Discover more: