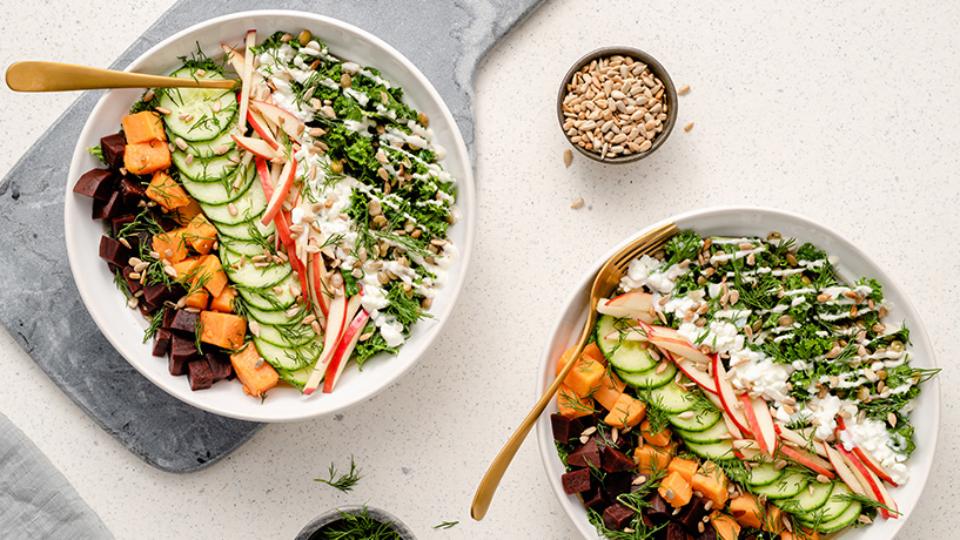 Prairie Buddha Bowl
January 22, 2020
PRAIRIE BUDDHA BOWL

CREATED BY CHEF DALE MACKAY

INGREDIENTS
Dressing:
½ cup CO-OP GOLD PURE Original Cashew Hummus
1 cup LIBERTÉ Kefir, plain
1 tsp salt

Bowl:

2 cups cooked CO-OP GOLD PURE Laird Green Lentils, drained and cooled
2½ cups chopped or ripped kale leaves
¼ tsp each salt and black pepper

Bowl Garnishes:
1½ cups diced beets, cooked and drained
1 cup diced sweet potato, blanched until tender
2 cups sliced cucumber
½ cup matchstick-cut apple
½ cup DAIRYLAND Cottage Cheese

Final Garnishes:

¼ cup fresh dill, minced or ripped
¼ cup sunflower seeds, toasted
DIRECTIONS
Serves 4
Prep Time: 15 minutes
Total Time: 30 minutes
Place dressing ingredients in a bowl and whisk together.
Combine lentils, kale, salt and pepper in a bowl. Add desired amount of dressing and mix well.
Divide the salad onto the bottoms of four bowls.
Arrange each garnish on the salad in lines or whatever arrangement suits your eye.
Drizzle extra dressing on top. Sprinkle with dill and sunflower seeds.
Discover more: